Flower Garden, Transport, Dolls House, Music, Steampunk........your choice!!  Or maybe you can think of another!
Last edited by Jane on Thu Mar 19, 2015 6:21 pm; edited 2 times in total
Do you sell moulds for little people. would like to do a dolls house. only other way a can think of is quilling little people but can't see quilling strips for sale online.

another idea for team, house of mini books. Or bug specimen like butterflies,
No moulds for little people but there are the Tando minis! Can't remember if there are some wooden shapes too, will
when I next go.
Think we stopped selling quilling papers!!
For this project I thought I'd try something a bit different and added some drawers to my printers tray.....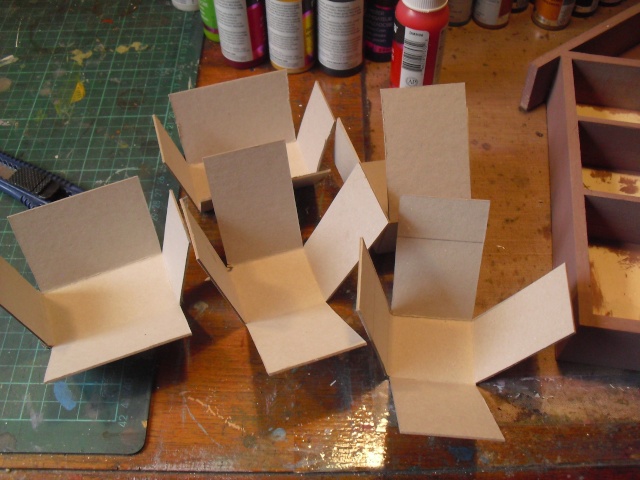 I began by cutting the drawers out of greyboard as seen. Every space is slightly different so you need to play around till you get a drawer that fits the space (keep it loose rather than a snug fit to allow for the tape you will be adding)
Paint the insides and allow to dry.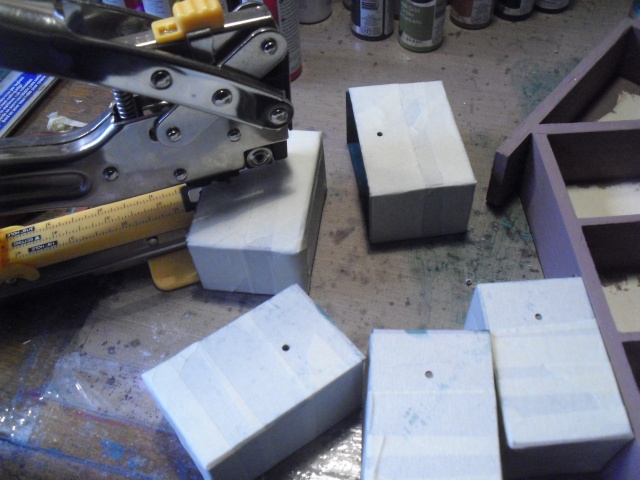 Cover the drawers with masking tape or similar to create and hold the shape. Use a crop o dile or similar to punch small holes for the handles.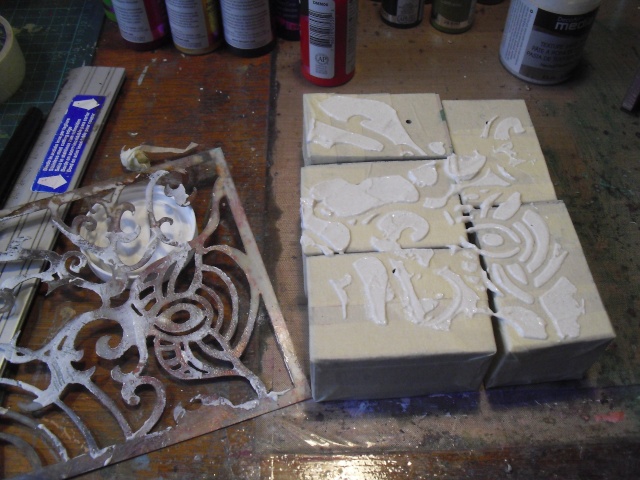 Lay the drawers in position and use a mask and grunge paste to add texture. Neaten any messy bits while still wet and add some of the same to the roof of the house too and allow everything to dry thoroughly.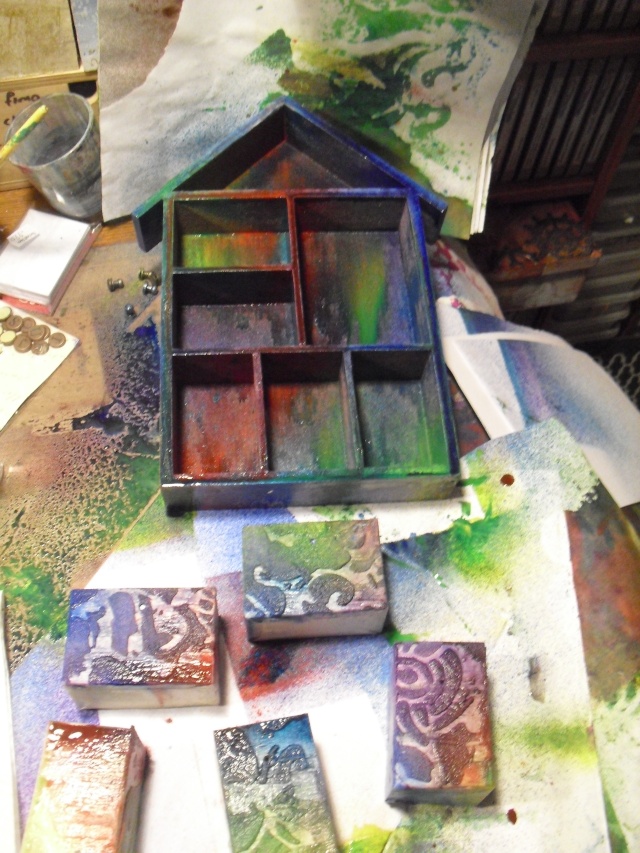 Begin to add colour with DecoArt Acrylic Misters in assorted colours and dry.
When dry, add hitch fasteners for handles and place the drawers into the unit.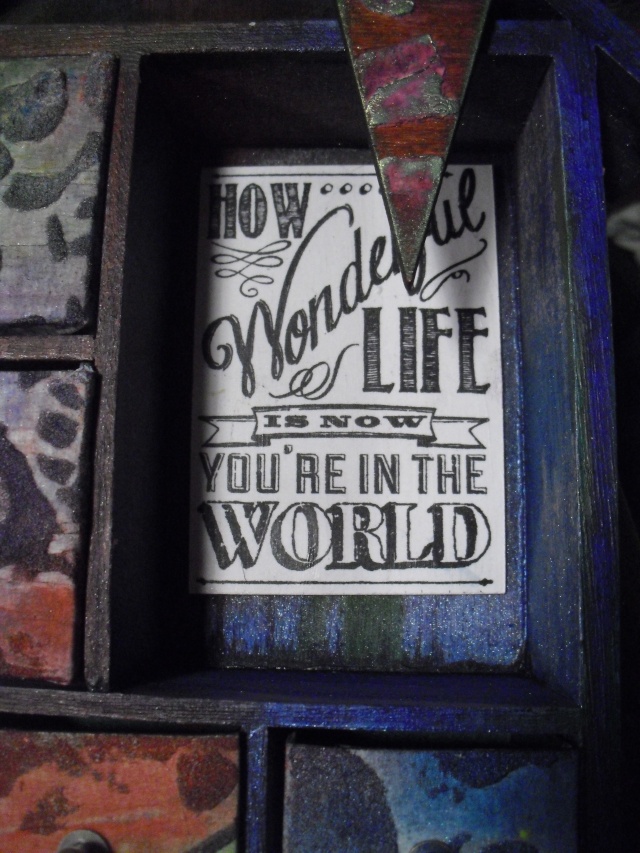 Stamp the sentiment onto white card in Black Archival ink and add to the large aperture using 3d foam.
(Tip: cover the piece with DecoArt Faux Finishing Medium to give a protective surface.)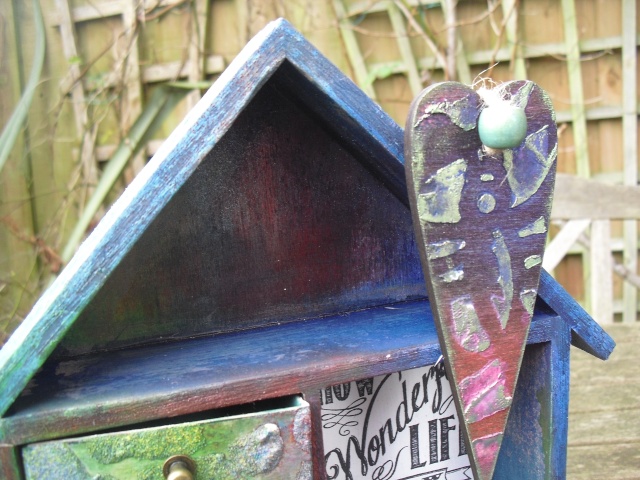 To finish I added a heart made previously which I thought looked pretty cool and tied in nicely.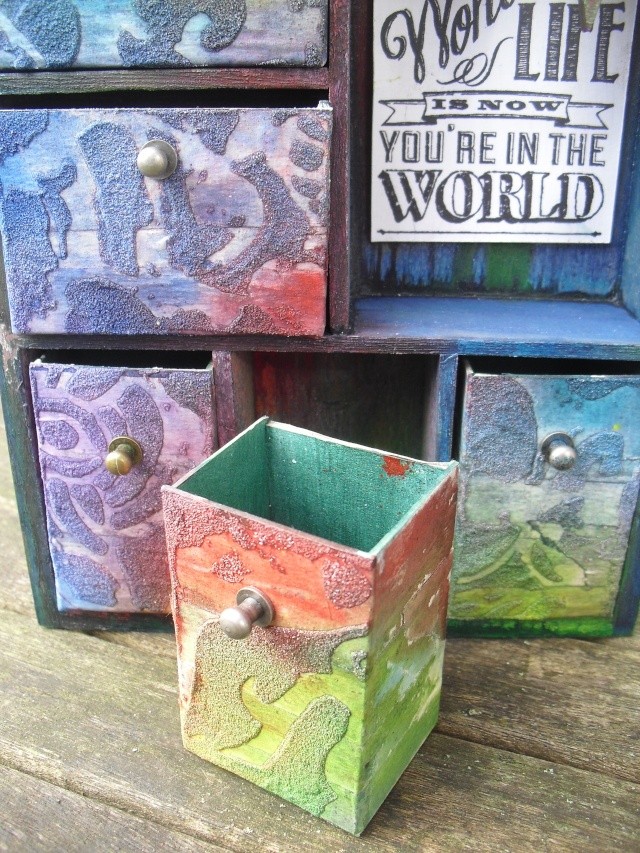 Now you have a little unit which is both pretty and practical; there is place to display little elements in the two apertures and drawers to keep your embellishments too.
Materials
http://www.thecraftbarn.co.uk/house-shaped-curio-box.html
http://www.thecraftbarn.co.uk/3-hanging-hearts.html
http://www.thecraftbarn.co.uk/tim-holtz-embellishments-hitch-fasteners.html
http://www.thecraftbarn.co.uk/tando-masks-neil-walker-winged-pattern.html
http://www.thecraftbarn.co.uk/paperartsy-grunge-paste.html
http://www.thecraftbarn.co.uk/new-products/decoart-media-misters.html
Other
Greyboard
Masking tape
WOW! Neil!!! That's ingenious!!!
x
Neil that is amazing, thank you!!
Bravo, a great job, looks brilliant . x
Words and pictures sent by email to jane
Xx

Pauline Wheeler

Guest Designer




Posts

: 229


Join date

: 2014-05-29



Thank you everyone fab projects as usual!!
Thursday - Pauline
Friday - Dawn
Saturday -Neil
If that's ok with everyone

Pauline Wheeler

Guest Designer




Posts

: 229


Join date

: 2014-05-29




---
Permissions in this forum:
You
cannot
reply to topics in this forum